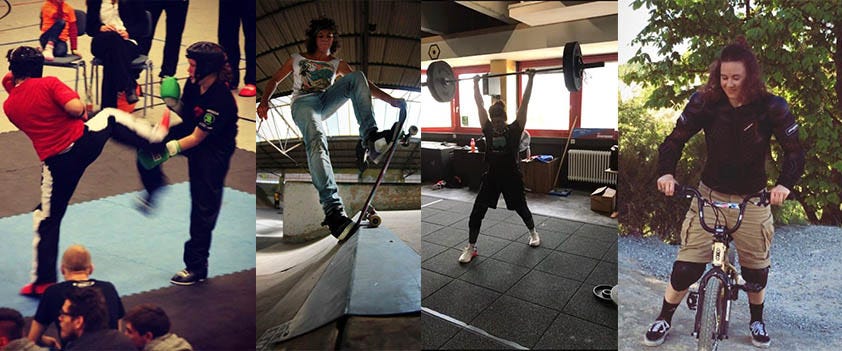 "A Loveletter to CFA:
Hey, my name is Kim, I'm 28 years old and this is my love letter for CFA, because thanks to you my 2020 was better than it could have been."
"Since I'm a child, sports has been a constant element in my life. Football, climbing, tennis, fencing, BMX, Skateboarding, Kickboxing and now CrossFit.

Kickboxing was the longest of all with 8 years, from 18 to the age of 26. One day after training I tried out TRX bands and made a bad movement, where all my body weight was on my left shoulder. As a result it dislocated with a huge BOOM. After that incident it dislocated in many different overhead positions (closing the garage door, while bouldering, etc.) - it started to become a real psychological burden because I was always very active!
I had to go to the orthopedist, which was very dramatic, because she said I needed surgery. I was convinced that there is another way and went to a physiotherapist, who really put me back on track with a positive mindest. She said, don't worry, you've been always very active and you can strengthen your shoulder with targeted muscular training. I did that and went a lot to the gym, but I made my thing there and didn't have a community around me like in kickboxing. I wasn't happy with that solution/way of working out.
End of 2019 I met Jenny in the work kitchen, we are colleagues at the REM group, and she said: hey! You look sporty, what are you doing?
And so we talked about CrossFit and the possibility of doing a free trial training.
Well, one thing led to another and I did my on ramp in January 2020 - the best decision ever and my life saver for 2020.

Coach Hannes is doing the on ramp courses at CFA and it was always the biggest pleasure to go there . I recommend it to everyone I talk to!!
After a couple of weeks I was extremely sad when we graduated from on ramp. But! It was the beginning to start going to the classes where all the others were working out and doing the WOD's. I remember watching them and thinking, wow, I want to be able to do that one day. And I loved seeing all the strong girls. At kickboxing I was the only female hulk and now with the fitness level of the CrossFit girls, I had a whole different goal perspective! What I love about CrossFit, is, that everyone has their own path - there are scaling options, and you push each other to become stronger on your own pace. Kinda like an individual sport embedded in a teamsport.

But what I love the most are the people at CFA. Coach Hannes and Coach Janina, the power couple - Coach Julie, the super strong and beautiful power woman, who teaches us to become better at gymnastics; Coach Rob, who always asks us if we're feeling fine, I really appreciate that; While the solar system has one sun, we have two - Jenny and Jules!
And we have many other new coaches, that I'm really excited to learn from - Britta, Carles, Michi,.. just to name a few!
I have made friends in this box, which I would not want to miss in my life.
I drive approx. 40 minutes with car and 1 hour by public transport to go there, but going to another box is really not an option for me.
I cannot wait till it opens again, and believe me people, I will hug you massively when it will be possible again.

So, thank you all for existing, thanks head coach Olly and Coach Svenja for the battle called Lockdown you fight. Thanks for all the extra program you provide for us to stay strong, mentally and physically during this time. You gave me the power and optimism for 2020. My year, without you CFA-family, would not have been as it finally was. I'm proud and happy to be a part of CFA.❤️
Love,
Kim, who can now do handstand push ups and lots of other overhead-movements."